right, I am at this stage resigned for this to remain a mystery, but thought it would be an interesting one to throw out there for thoughts now that I've finally dug out my laptop and can upload photos...
Context:
- house is late 1500s/early 1600s - timber framed, built with some wealth originally plus the early 1700s early Georgian wing addition also showing money
- 2 bay, passage etc where we believe the door to have been originally plus main room, with the same above on the second storey - roof vaulted
- never a hall house, and the chimney appears to have been built with the house itself rather than a later addition
- there wasn't much surrounding the house when built, slightly away from the medieval origins of the village centre on a prominent position up a slight hill (Sonning, Berkshire)
- a single skin brick animal shelter adjoins the cottage very soon after original construction, against the wall with the chimney which would have briefly been external (this also has a very high c.3.5m ceiling almost fully vaulted to the original roof)
- there looks like there would have been a wide (size tbc) entrance on the external wall opposite the chimney and this is the direction that brick on end floor traces have drained
- there is also evidence of an opening on the adjoining wall where a door is currently
rough scribble hopefully shows the plan as described: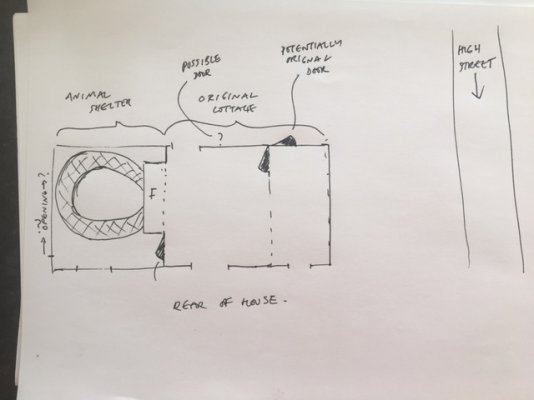 Now, the Q - what is the almost circular construction shaded in the old animal shelter?!
Viewed from door at top left of plan: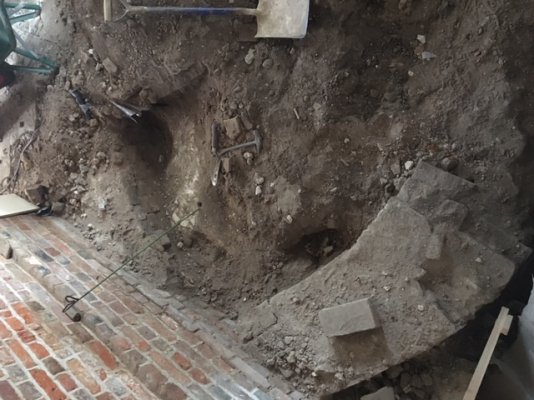 Viewed from left of plan: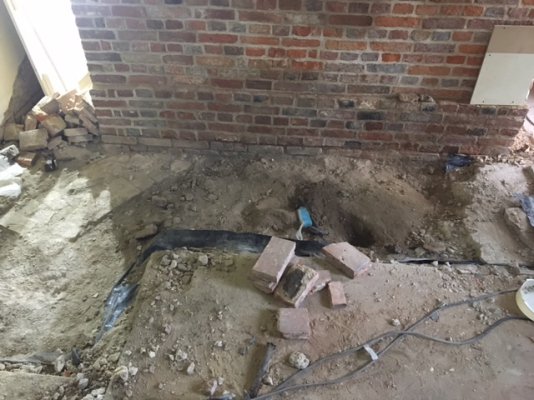 A few details:
- room is 14 x 14 feet
- to external edges is it approx. 9 feet in diameter
- it is of later construction than the shelter, early to mid-Georgian bricks, although could obviously be recycled and later still
- it was built inside so valuable / needing to be dry
- the foundations are substantial, 4 or 5 courses under original floor level, supported on flint under - so this supported weight
- no real floor found, with the exception of an area of smoothed natural chalk next to the chimney about 3 courses down from original floor level which had a circular hole about 1 inch diameter and about 10 inches deep
- the top surface seen was not the surface, the wall was taller but unfortunately this room was under modern concrete so this is all that has been hidden
- depth of wall is c18 inches, 2x bricks
- it is intentionally built in a curve, but not a circle, more a slight oval with one flatter edge and obviously butted against the rear of the chimney
- the inner face was left bare by the looks of it an not too be seen
- the outer face has some traces of lime render, but under floor level so probably functional rather than aesthetic (heat retention?)
- it almost meets two of the external walls, although these could have had large openings
- there is potential trace of a 'buttress' similar width wall but not tied in so probably later, which would be pointing towards the corner bottom left of the plan
- ground is sandy with chalk/flint
- odd bits of pottery found, but not masses, lots of broken clay smoking pipes (medium wealth holes), some bones including a few pieces of human, 2 seas shells
Some thoughts that have been mused to date:
- fire pit - quickly dismissed as chimney has always been there and this is much later than the room it is in - also no traces of soot on rafters
- a well - obviously not, indoors, too big and doesn't go down anyway
- mill stone - not really enough space / access for a donkey to turn as couldn't walk around fully
- kiln - some traces of pottery found, but not excessive amounts
- oven - would have been very large, and if so often built in more of a tunnel shape to minimise the domed load of the roof
- ice house - similar size, but doubtful inside and doesn't really go deep enough
- some sort of cock fighting pit
I'll upload a few more images, although it is hard to capture in the room
any ideas?!? :?